Begin at the beginning! Meet Zarabeth, who both sinks and rises when her office gives her bad news…
Read below, or listen to Laura Petersen's wonderful audiobook version!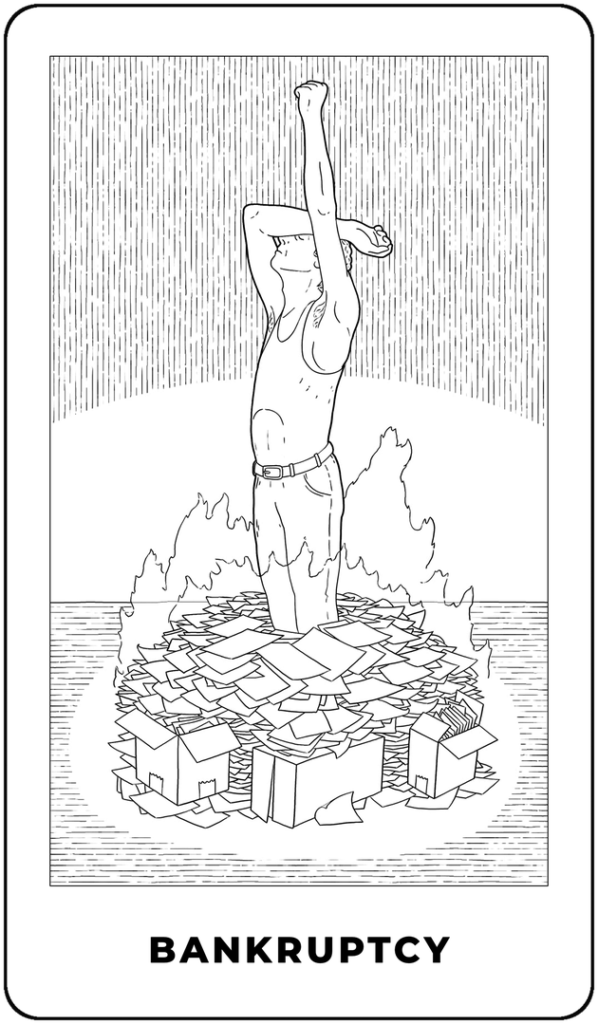 APRIL 2009
BANKRUPTCY – You Need Help
Chapter 1 — Washington, DC
In the fake-oak-paneled conference room, Zarabeth Battrie found a dozen others standing. All looked wilted and worn, with bunched shirts and bowing ankles. The plastic tables were gone, the plastic chairs stacked in the corner. More people arrived but no one unstacked the chairs. A herd instinct, Zarabeth decided, to keep a clear path for fleeing.
A natty beige man in a crisp blue plaid suit came in, pushing a low gray plastic cart with stacks of documents. If the standing people surprised him, he didn't show it. With practiced ease he lowered the room's screen, plugged in his powerstrip. Someone passed the documents around but no one spoke. In the silence, Zarabeth felt anxieties around her, about money, status, children, groping her like fevered predictable hands. Too intimate, these people's worries in her skin when she didn't know their names, or want to. She shook them off, pushed through to the front so as not to stare at men's backs all meeting.
Projector light bleached the natty man while he talked through slides of sunsets and bullet points, with the real news a seeming afterthought. Her office and two others were merging with Optimized Deployments, in Boston. A great move. Efficiency for all. The animated org-chart realigned over and over, three squares gone and Optimized's no bigger. Reorganized like a stomach does food.
People asked tired questions, their hot worry now clammy hope. The natty man smiled no matter what he said. Yes, redundancies. Jobs would move, details to work out. All would be well and better.
He left to spread his joy. The room lights rose.
Zarabeth's boss, Aleksei Medev, slouched in the corner like someone had whacked his head with lumber. His unshaven olive skin hung gray and limp. With all eyes on him, he straightened.
"A very challenging time," he said. "We're sending reports to justify — to guide the transition. Client work is secondary."
Zarabeth was in no hurry to fill out Aleksei's useless reports. Nothing she had done in the last two months justified keeping her employed, she knew that. She went out the broken fire exit to a stand of pine trees behind the parking lot. She lit a cigarette, paced in the shade.
Once, Zarabeth Battrie had traveled the country as an Inspiration Manager, connecting the best people at Straightforward Consulting to an in-house knowledge network. She had good instincts which managers to flatter, which to cow, which to sneak past. It surprised her how much she understood when she finally got her quarry to talk their special arcana, over morning jogs, lobster lunches, steak dinners, midnight hookahs with shots of tequila. Later, on airplanes, she'd think of those and other conversations, watching the pieces fit together in this strange unity and balloon, her world growing with a drug-like jolt. To let her do that, week in week out — taking off, landing, on the move, on her feet — had been the greatest praise.
On Valentine's Day, it had evaporated without explanation. Zarabeth had been reassigned to Reston, in the Virginia suburbs, to do public-relations grunt-work for industry trade groups. Aleksei Medev, still shiny then, had put his feet on her new desk and spun a great tale, core knowledge toward a turnkey marketing solution, select team deep study. At least she got an office with a door.
Zarabeth had visited Boston twice in her old job. Optimized had smart people and kept them by being greedy. They would suck the money from her division like marrow from bone. Everyone fired, no matter how they danced.
Doubt ate through her like some parasite come to lay its eggs. She pinched the cigarette's cherry to burn it off with pain. Six years at this firm would not end this week.
END SAMPLE