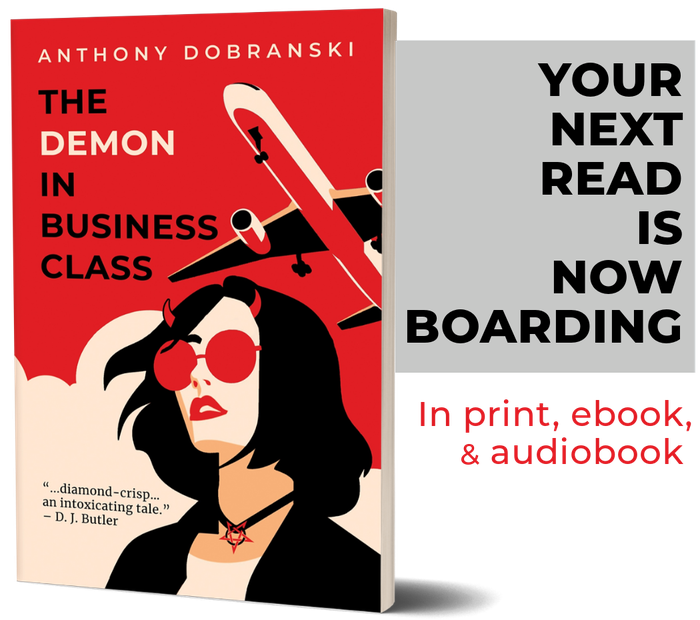 She can speak all languages. He can smell evil intent.
They're enemies. They crave each other.
Zarabeth travels the world for a shady executive, laying the groundwork for global war.
Gabriel offers a second chance to the criminals that a visionary leader sees in dreams.
One rainy night in Scotland, they meet…
Now it's complicated.
There's also the investigator, the witch, the playboy, the gangster, the cultist, the pre-school teacher, the two angels…
And the demon.
A crisp, tense, international modern fantasy —
THE DEMON IN BUSINESS CLASS
"If William Gibson wrote paranormal … weaves the dark worlds of the occult and big business into an intoxicating tale." — D. J. Butler, author of Witchy Eye
"Creative spark? Anthony Dobranski ignites a creative bonfire … A masterwork of invention." — Mary Kay Zuravleff, author of Man Alive!
"A swank cocktail of international intrigue, steeped in the supernatural, mixed with literary flair …. sytlish and sexy, so sleek it flies off the page."
— Zach Powers, author of First Cosmic Velocity
Get it at your favorite bookstore! Here's some popular links:
Print / eBook: Amazon – Apple Books – Bookshop.org – Barnes & Noble – Google Play – Kobo – Walmart – or order at any print bookstore!
Audiobook: Audible – Apple Books – Google Play – Kobo – Walmart – Libro.fm – and many more!
To borrow: The Demon in Business Class is on the subscription sites Scribd, 24 Symbols, and Kobo Plus. It is available to library patrons via Overdrive, Biblioteca, Baker & Taylor, and Hoopla.
This page last updated April 8 2022