Despite its reputation, Friday the 13th treats me well — maybe because 13 is a rare number, evenly divisible in a Tarot deck's 78 cards.
Certainly this Friday the 13th is a great day to share some love — and, BIG NEWS!
The Demon in Business Class gets a gorgeous new edition this spring!
New cover, new layout, with illustrations! In hardback, paperback, ebook and – for the first time – an incredible audiobook edition, narrated by the amazing Laura Petersen.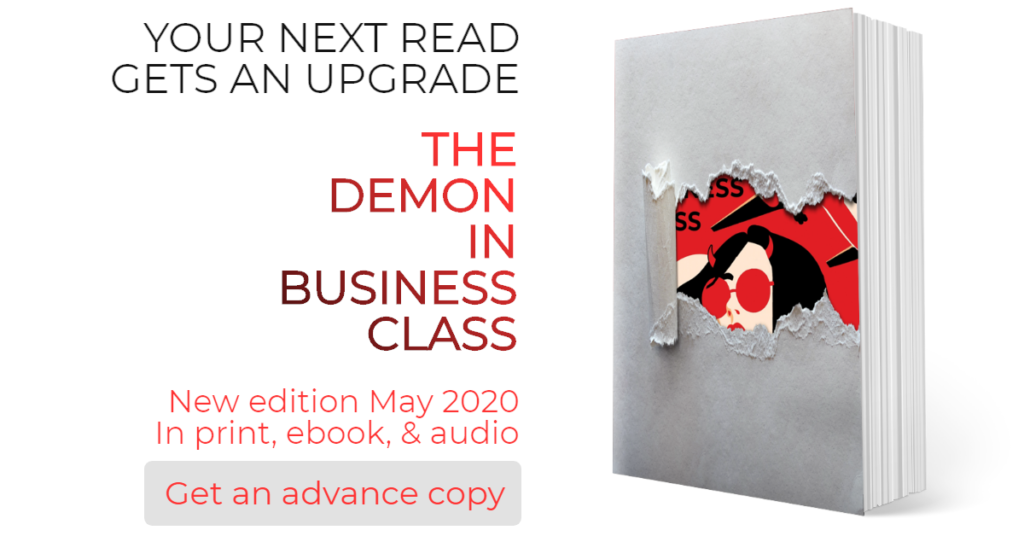 (If the novel is new to you, this is a great time to discover it — click here to learn more!)
A lot has gone into this, and there's a lot more ahead…
… but I need your help to make it happen.
The link below – and on the ad above – is to sign up for the new edition's Advance Review Copy. From now until the end of April, you can order an Advance Review Copy in paperback (US addresses only), ebook, or audiobook.
Advance Review Copies are FREE…
If you pledge, scouts' honor, to read it (or listen to it), and leave an honest review on your favorite site.
In modern literary life, reviews are incredibly important. If everyone reading the ARC leaves an honest review, it's a huge boost to the Demon relaunch.
Want a free ARC copy? Sign up here!
I'll be sending the ARCs out in early April – ebooks will arrive faster, of course 🙂
Official pre-orders begin on April 26 — exactly 6 months from the first edition's October 26 release date. (Also, double-13, and another Tarot factor!)
That's also when I reveal the full cover (unless you're an email subscriber). The retail launch date will be May 26!*
Signing up for the ARC also signs you up for my mailing list – including: an early cover reveal on April 13, sample chapters, audiobook samples, and interviews with the amazing professionals behind the launch; plus, some very early passages from my second novel, The White Lake, a literary science-fiction tale unlike anything you've ever read. It's very different from Demon, yet completely my style.
BIG CHANGES AHEAD! I am sweating the details and you'll see them in the coming weeks. I know they will delight you!
*May 26 isn't a significant day for me, but Tuesday is a traditional book release day. Also, it is one day after the original release of Star Wars – May 25, 1977. So, that's cool.