It's an article of nerd faith that, before Peter Jackson filmed it with pretty people, the weird kids read The Lord of the Rings. I was a weird kid, to be sure, and I read it. Half. I bogged down at the Ents, skipped ahead to Shelob, and then straight to Mount Doom. None of the appendices.
Truth? Weird kids read Michael Moorcock. Cruel decadent gods, civilizations in decline, addictions, hallucinations, family betrayal, doomed passion – and, at best, a personal morality jerry-rigged from friendship, adventure, and the faint hope inside a calloused heart.
In my world of young adult novels with obviously good heroes fighting obviously evil totalitarians – from A Wrinkle in Time through Harry Potter to Hunger Games – someone needed to take up Moorcock's heavy-metal mantle of trippy morally-conflicted fantasy, where no choices are good and the only victory comes with pain and loss. Someone still needs to write for the weird kids.
Thank the stars, then, for Gregory D. Little, whose new novel Ungrateful Souls has just been published.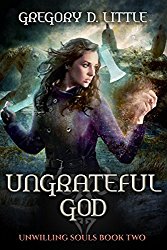 In Little's strange, mind-bending fantasy novels, humanity long ago won a ruinous victory in a war against its vicious gods, imprisoning them in the Pit, a great bubble built deep in the hot lava mantle of their planet. The Pit requires constant maintenance, by smiths who still use the gods' horrid soul-technology of wrightings, iron and crystal devices powered by the trapped souls of the dead.
Yet the Pit is a privileged place, with clean clothing, cool gear, and a safe space for teen angst. On the surface, humans live a rough iron-age existence in stone and wood huts, their only cities the colonized carcasses of the gargantuan monsters the gods once bred to oppress them. Some humans are still Blazing, their glowing eyes marking them as descendants of the godly, earning them fear and resentment from the unmarked Dims. All live under the heel of the Polistraat, a police force charged with keeping secret worshippers from freeing the gods, but grown self-righteous and brutal after centuries of their paranoid work.
Ungrateful God continues the harrowing journey of Selestia "Ses" Lucani, the conflicted heroine of Little's Unwilling Souls series. She began the first book as a conventional young-adult heroine, with awkwardness, a secret destiny and big girl-crushes. She ended in a vastly darker place, betrayed by both her undercover-Polistraat lover and her god-possessed father, but now empowered to free the souls trapped in wrightings, turning these incredible machines into sand and dust. Her unusual eyes, one Dim one Blazing, give her the power to see "demons," humans like her father in secret thrall to a god.
In Ungrateful God we find her in humble circumstances, making her way with a small force of Artisan Guild rebels to the remote unpoliced city of Ocypode, built on the shell of a crab so enormous that its barnacles house hotels and taverns – and with its own gravity, so that one lives on it in all planes, like an Escher drawing or the game Monument Valley. In Ocypode, society is breaking down in an uncomfortably godly way; some disappear while many more suffer nightly blackouts, unable to explain why they wake in different places than they went to sleep. When Ses's fellow Guilders disappear, she must navigate the treacherous city while avoiding both the Blazings and the demons. Her only uneasy allies are Lach, of the insular race of Pilots whose ships bring new souls to power the Pit, and Hadrian, a demon enthralled by a rival god to the one behind Ocypode's problems.
A secondary plot involves Murien, Ses's Polistraat-spy lover, now undercover as a Pit apprentice even as the Polistraat itself has put the Pit's smiths under martial law. Still faithful to the goal of keeping the gods imprisoned, Murien can no longer gloss over the Polistraat's brutality. His betrayal of Ses weighs on him, and his attraction to the lovely Brea opens him to questioning what exactly the Gnaeus, the nasty Polistraat commander, has in mind.
Little writes engagingly, full of sensory details and wry asides. Even as the settings and visuals grow grow ever more hallucinatory – and much larger in scale (I did say, gargantuan monsters) – he always keeps things grounded in the other senses of Ses's rough existence: the clamor of taverns and markets, the feel of rough cloth, the smell of bad tavern food and unwashed bodies – especially, like any teenager, her own unwashed body. Even the magic of the soul-technology requires believable work to craft and use.
Little also keeps a tremendous number of plates spinning. It's impressive to see how this complicated plot, so dependent on multiple histories, comes together into a clear yet phantasmagorical climax. Ses's despairing awareness of humanity's dependence on trapped souls offers a theme for today's reader as complex as the real questions of climate change, without ever being didactic. Ses's character develops believably, seemingly ever more sensitive to the world after each hardship. I'm not sure even she could say clearly who she fights for, but the reader knows her heart.
In contrast with the glories of Ocypode, the Pit scenes sometimes let me down. Murien's anger clouds his judgement too conveniently, as does his devotion to the lovely Brea, who has sparks of intelligence but still seems unworthy of all the adoration she inspires.
Still, it's always hard for the sheltered to seem interesting compared to the unsheltered, be they in Hogwarts or the Pit – and at the end of Ungrateful God, there is no shelter left, a greater storm to come, and Ses is not the only one who pays a painful, damaging price.
If you're a weird kid, or you used to be, Ses Lucani is the heroine you've waited for. Looking for the heir to Michael Moorcock? Check out Gregory D. Little!
Ungrateful God is available on Amazon, as is the series's first novel, Unwilling Souls.